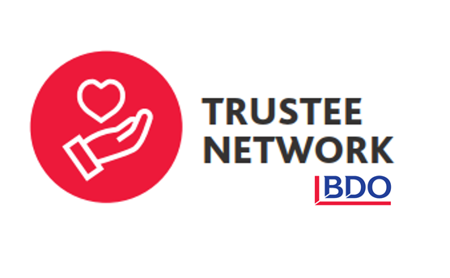 ---
BDO Trustee Network
BDO LLP
---
Client: Getting on Board

BDO's core purpose is 'helping you succeed' – and there is perhaps no greater proof of that purpose in action than the work being done by the firm's new Trustee Network.
BDO's Trustee Network is led by our network council and represents trustees, not for profit directors, school governors and PTA representatives from across the firm. The Network supports over 300 employees who hold external charitable appointments, with the support and partnership of Getting on Board.
BDO's Trustee Network sets out to support their people, by providing support, experience and interacting with others in the roles, creating a safe space to share the demands and concerns. It actively encourages people to take on the roles, assists in understanding their values, passions and interests and where these align to various organisations. While supporting everyone from all backgrounds to break the existing unconscious biases, stigmatism and barriers that exist in the current trustee pool. By reducing the demand of the role and by allowing all people to become trustees, and encouraging diversity the network benefits society as a whole. Developing, training and supporting the charity leaders of the future who will drive wider change in society.